Soup On Sundays
Written by Co de Kloet & Menno Kalmann
Arranged by Joe Hasiewicz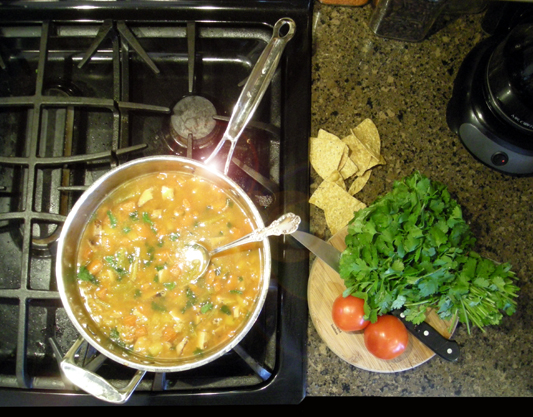 Soup On Sundays Listen to streaming audio
Likely inspired by Julie's sexy delivery of the Peshtigo news on Little Spoon From Peshtigo, this version of Soup on Sundays came about as a suggestion from Co de Kloet, one of the co-authors of the song. Julie liked the song because it was "cozy" and said that she would try and sell it to either the Campbell's Soup Company or the Food Network so that we could all get filthy stinking rich - a collaboration made in heaven - they just needed someone to do the work - me. The psychedelic middle part - which Julie says ruined any chance of her ever selling this song to anyone - was created by Michael and myself with some "Surreal Constraints" provided by Co. No, there were no magic mushrooms in the soup, just good healthy ingredients.
Now, if this still is not enough soup for you, then you can hear Co sing Soup on Sundays on the 2006 release Hardcore Ambience by Co de Kloet and Menno Kalmann on Favored Nations Entertainment or just listen to his show on Dutch Public Radio. www.nps.nl/studio6 or http://radio6.nl
Enjoy the soup.

Joe Hasiewicz
February 04, 2009

| | | |
| --- | --- | --- |
| | Julie Hasiewicz | Vocals, Soup Pot and Ladle |
| | Co de Kloet and Menno Kalmann | Songwriters |
| | Michael Kent Smith | Psychedelic Slide Guitar |
| | Maddie Hasiewicz | Cello |
| | Sam and Ally Hasiewicz | Spoons and Bowls |
| | Joe Hasiewicz | Piano and Arrangement |
If you would like to download the mp3, click here and send me an email.
Visit Joe Hasiewicz At MySpace